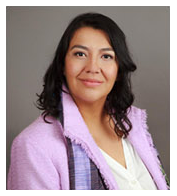 Iris is the proud product of public schools and has overcome the same adversity many Minneapolis students face every day. Her determination to get the best education she could was sparked at age 9 after laboring in the Texas fields. Her mother, the custodian of her high school, believed in the empowering nature of education and worked hard to send all four of her children to college. Still, Iris heard the message that she was not expected to succeed: after her acceptance to Cornell University, the superintendent of her school pulled her mother aside and asked her, "Why your daughter?" Her mother defiantly responded, "Why not my daughter?"
Iris shattered those expectations, earning a bachelor of science degree in city and regional planning from Cornell University in 2002. Soon after, she was hired as an Immigrant Rights Community Organizer and quickly learned that her work would be much more impactful if she learned about political organizing as well. In 2006, Iris was accepted into the 2006 Wellstone Fellowship Program where she worked tirelessly to engage Latinos in the Twin Cities through voting efforts.
Iris lives in NE Minneapolis with her husband, Andrés, and two children, Carlos and Sofia. While raising her children, Iris has remained active in her community. She enjoys participating in a variety of community events and causes.